I've been running this blog since 2010, which for blogging is a pretty long time. Along with the usual site maintenance needs, there's also the need to address how to handle older, and possibly dated, blog posts.
The following infographic lists some ways to handle updating older material. I'll analyze each point afterwards.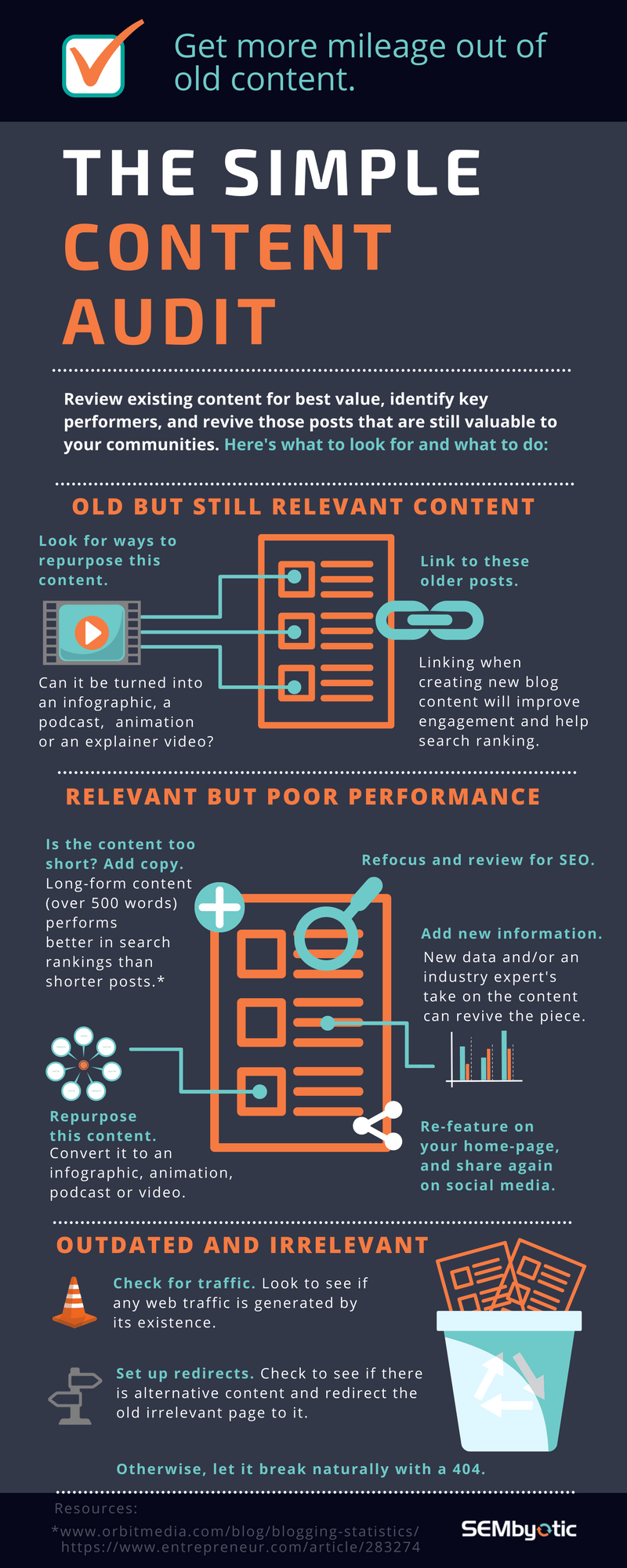 Old but still relevant content
I do link to older blog posts, as suggested. It's a way of keeping them visible, plus using them as relevant reference links. It also means not having to repeat myself on certain topics. If I've written before about, say, the Marvel comics superhero Black Panther, I don't need to spend time/space re-explaining my thoughts.
One thing I've not done is turn my blog posts into videos, audio, or infographics, beyond a few YouTube experiments with (basically) slideshows set to music. I'm not sure how much support or attention there'd be for such.
Relevant content but poor performance
Adding more content to lengthen posts is something I've done for some older posts. However, I aim for posts being at least 300 words long, not 500.
I've updated evergreen posts as needed with new information, as well as improved their SEO standards (using the Yoast SEO plugin for WordPress greatly helps).
Another task (unmentioned in the infographic) is going through some older posts to make sure they don't have typos and grammatical errors. I also try to update terms that in retrospect seem dated, not descriptive enough, or possibly problematic. The AP Stylebook (which I can access digitally for free via my local public library) is a big help, along with some other sources (such as GLAAD's media guide for LGBTQ-related terminology).
Also unmentioned in the infographic is updating featured images. Some older posts of mine still use images that're too small, improperly proportioned/sized, and/or lack creator credits (for comic panels/artwork). I'm going through older posts to update them when possible, but it's admittedly a slow process.
Outdated and irrelevant content
If a blog post is completely irrelevant, and isn't getting much traffic, I'll consider deleting it outright.
It's usually my oldest blog posts subject to this, but this might come up in latter-day posts, too. Reasons include:
Being too off-topic.
Discussing an extremely outdated or irrelevant topic or news story for which the news links are long dead.
The tone feels too critical (or my opinion's changed).
Newer material discusses the same ideas.
And so forth.
Ideally, I'll set up a redirect to a more relevant post, as the infographic recommends. That way, any traffic it might still get will go to a more relevant post, or one as close as possible.
If you're a blogger, how do you handle older posts on your blog?
Image by Werner Moser from Pixabay