Last updated on June 12th, 2022
I've been running this blog since 2010, which for blogging is a pretty long time. Along with the usual site maintenance needs, there's also the need to address how to handle older, and possibly dated, blog posts.
The following infographic by SEMbyotic lists some ways to manage older blog posts and other content. I'll analyze each point afterwards, and see how they applies to my own blog.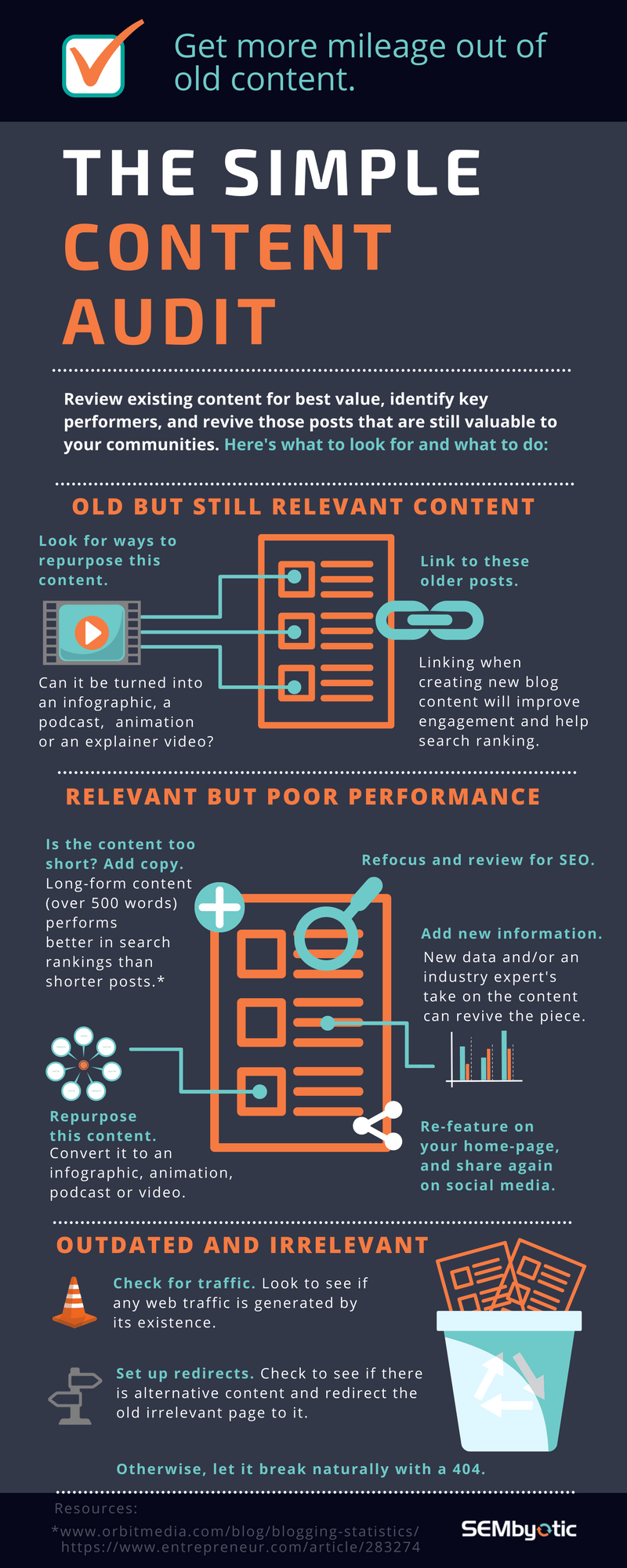 Old but still relevant content
I do link to older blog posts, as suggested. It's a way of keeping them visible, plus using them as relevant reference links. It also means not having to repeat myself on certain topics. If I've written before about, say, the cartoon Strawberry Shortcake, I don't need to spend time/space re-explaining my thoughts if I ever mention the show again.
I've turned a few blog posts into YouTube videos (slideshows with music), but otherwise, I haven't truly gotten into audio or video.
Relevant content but poor performance
Adding more content to lengthen posts is something I've done for some older posts. However, I aim for posts being at least 300 words long, not 500.
I've updated evergreen posts as needed with new information, as well as improved their SEO standards. WordPress plugins like Yoast SEO or the one I currently use, All In One SEO, help.
Another task (unmentioned in the infographic) is going through some older posts to make sure they don't have typos and grammatical errors. I also try to update terms that in retrospect seem dated, not descriptive enough, or possibly problematic. The AP Stylebook (which I can access digitally for free via my local public library) is a big help, along with some other sources (such as GLAAD's media guide for LGBTQ-related terminology).
Also unmentioned in the infographic is updating images. I've updated images in older posts that were too small, broken, or low quality.
Outdated and irrelevant content
I've been split on several ways of handling outdated and irrelevant blog content. The options I've used:
Update the old post
If it's merely outdated but useful, I'll just update the content in the old post. This includes updating any links or references. I'll also throw in internal links to newer relevant posts.
An example is, well, this post. I originally wrote it in May 2018, and updated it in June 2022. The post dates at the top of the page reflect the original and updated versions.
Write a new version of the old post, redirect from the old one
If the post would require too much overhauling to salvage, but it's still relevant, it's easier to just write a new post, and redirect from the old one. Whether or not to leave the old post up is debatable. I'll sometimes put a link at the top of the old post, pointing to the newer version. Other times, I'll opt to just delete the old version of the post and implement a 301 redirect to the new version, especially if the new post uses most of the same material.
An example of this: I've been rewriting some of my old "minorities in cartoons" posts as "cartoon reviews," since the former posts started feeling too dated. I also ended the series after the realization I was just competing with Wikipedia/online wikis. Depending on the post, I either leave a link to the newer version in the old post, or just redirect to the new version.
Delete the old post without a replacement
If a blog post is completely irrelevant, and is beyond salvaging, I'll consider deleting it outright (or unpublishing it/setting it to "private" to achieve similar results, but saving what I wrote for myself). It's usually my oldest posts subject to this, when I was still sorting out how to handle the blog. Reasons for deleting include:
Being completely off-topic. Personal material (such as vacations) ultimately doesn't belong on here. That's more appropriate for my Twitter account.
It's an extremely outdated or irrelevant topic or news story, for which the links are long dead and I couldn't find replacement links. Older posts relying on YouTube videos or now-shuttered sites are prone to this.
The tone feels too negative, or my opinion's changed, and I didn't want to leave up the old take on the topic.
The post is too poorly written, there's no way to salvage it, and it felt problematic leaving it up. Quality took a hit on some posts when I was writing seven days a week, instead of my current twice a week practice.
If I take this option, I'll try to set up a 301 redirect to a relevant post, as the infographic recommends, even if the post got minimal or no traffic.
If you're a blogger, how do you handle older posts on your blog?
Image by Werner Moser from Pixabay